General
Single travellers & Under Occupancy supplements
What methods of payment do you accept?
Can we ski on the day of arrival or departure?
When does the chalet host have time off?
Travelling
Global Health Insurance Card (GHIC) and Travel Insurance
Chalet
Are towels provided & are they changed during the week?
Infants
What equipment do Ski Beat provide for infants and young children?
Do I need to bring a pushchair?
Travel
What is the baggage allowance for our flights?
Can I carry my ski boots as hand luggage?
Can we pre-book seats on the flights?
Do I need to provide Advanced Passenger Information (API) or check in online?
Will my booking be affected by the Border Force Strike
Wheelchair assistance at the airport
Can Ski Beat arrange transfers?
What are the usual coach transfer times to/from resort?
General:
Will there be snow?
We have chosen resorts for their excellent snow records throughout the season. There are also excellent snow making facilities/snow cannons in all of our resorts.

Single travellers & Under Occupancy supplements
All of our prices are based on twin occupancy therefore we have to charge under occupancy of any rooms which are not filled to this capacity. The price varies according to the chalet and date of travel rather then being a set supplement, so please call our office for a quote or use the live availability and booking section of our website. Please note that Ski Beat have nine rooms which are singles, Chalet Loup Blanc (Val Thorens), Chalet Ibex (Val Thorens), Chalet Renard (Val Thorens), Chalet Jennifer (La Tania) , Chalet Laurier (La PLagne) and Chalet Papillon 6 (La Rosiere) if taking the single room there is a smaller supplement, compared with taking a twin/double room.

What methods of payment do you accept?
You can pay by BACS (online transfer), Maestro, Solo, Visa or Mastercard. Unfortunately we cannot accept any other types of card.
Once the Party Leader has paid the deposit, group members will be able to pay their final balance via their online booking.
Please note for last minute bookings we can only accept card payments as other methods may take too long to clear into our account.

Can we ski on the day of arrival or departure?
Skiing on the day of arrival is not guaranteed, as it will depend on the arrival time into resort.
If you are making your own travel arrangements you may be able to ski on the day of arrival and the day of departure. In this case, your host will advise you where to store luggage. If you are travelling independently, please note chalets are not accessible before 9am on the day of arrival and rooms not accessible until 3pm. You must also vacate your room by 9am on the day of departure and then the chalet by 4pm.

When does the chalet host have time off?
The chalet host day off is Wednesday (all day). Your host can recommend and book a local restaurant for you. All chalet hosts also have Thursday morning off, so breakfast will be self service.
Travelling

Am I protected?
All Ski Beat flight-inclusive package holidays are ATOL protected, providing full financial protection for your holiday.
With 30 years of experience, here at Ski Beat we put our customers at the forefront of every decision and pride ourselves in our operational excellence.

Passport Information
The UK government recommends that you should have at least 6 months left on your passport on the date of your arrival into the country. This applies to adult and child passports.
If you renewed a passport before it expired, up to 9 extra months may have been added to your new passport's expiry date. Any extra months on your passport over 10 years may not count towards the 6 months that should be remaining for travel to most countries in Europe.
To check whether your passport is valid to travel click here:
UK Global Health Insurance Card (GHIC) and Travel Insurance
We advise all those travelling to have a UK Global Health Insurance Card which gives you the right to access state-provided healthcare during a temporary stay in a European country. Ski Beat always advise that you take out comprehensive winter sports insurance, regardless of whether you have an GHIC card, as there are limitations to this card.
Driving Licenses
UK travellers looking to drive in the EU must have a relevant International Driving Permit. For full information on the Government website click here.
Green Cards
Non-EU citizens are required to carry a physical green card in order for your car insurance to be applicable in the EU. We advise that you speak to your insurer for further information in advance of travelling.
Data Roaming
Before you travel, check with your mobile phone provider about the costs of using your mobile in the EU as these may change.
Tourist Tax
Tourist Tax: is now included in your package holiday price. The tax is to help maintain the resorts, clear snow, clean streets, help pay for displays etc
Val Thorens: 18.48
La Tania: 6.93
Le Praz: 11.55
La Plagne: 6.93 (except Sorbier & Lupin which are 11.55)
Plan Peisey: 6.93 (except Tetras Lyre which is 11.55)
Les Arcs 1950: 6.93
Val d'Isère: 6.93
La Rosière: 6.30

Chalet:
Can we smoke in the chalet?
All of our chalets are non-smoking, however Ski Beat staff will supply ashtrays on the balconies of the chalets as required.

Chalet Security
All of our chalets have a digicode lock - your chalet host will tell you the code on arrival and will explain how to operate the lock. We ask that you close all doors & windows securely when you leave the chalet, just as you would do for your own home.

Are towels provided and are they changed during the week?
We will provide each guest with a hand and bath towel. For environmental reasons, towels will not be changed during the week.

Are hairdryers provided?
We do not provide hairdryers in most chalets - please bring your own and don't forget your travel plug! The one chalet with hairdryers is Bouc Blanc in Les Arcs.
Infant:

What equipment do Ski Beat provide for infants (0-23mth)?
Ski Beat will provide the following equipment: Cots & cot linen, highchairs, breakfast & high tea. You do not need to pre-order these items as they are covered by the £80 charge for infants. This also includes a seat on the coach transfer. Please note: that child seats are not provided, this is due to the vagaries of French law. There is no reduction in price if any of these items are not required / used. Fruit bowls are provided in the chalets.

Do I need to bring a pushchair?
It is ultimately your choice, but in most cases we say no: Do remember that for much of the season, pushchairs are not practical around resort: there is snow & ice, steps and hills! Some guests do choose to bring them - they can be useful at the airport, and can be transported on our flights.
Travel:

What is the baggage allowance on Ski Beat flights?
Our Gatwick British Airways flights have a baggage allowance of 23kg per person. Our Manchester Jet2 flights have a baggage allowance of 22kg. Infants do not receive a hold luggage allowance. All of the flights have a hand luggage of 10kg.

Can I carry my ski boots as hand luggage?
Ski boots must be put into your hold luggage and cannot be carried as hand luggage. These must be stored in your suitcase, and cannot be carried as a separate bag or the airline may charge you a fee at the airport.
Can we pre-book seats on the flights?
You cannot pre-book seats on flights, as seats are allocated on a first come first served basis, therefore if you would like a particular seat we would suggest that you check-in early.
Do I need to provide Advanced Passenger Information (API) or check in online?
If you are flying with British Airways then you do need to provide Ski Beat with your passport information. You can do this by logging into your booking, and going to manage group - please do this as early as posible. Jet 2 provides the option of checking in online from the Wednesday before departure. To do this, please visit www.jet2.com/skibeat. For other flights please check with the Ski Beat UK Office.
Will my booking be affected by the Border Force Strike
At present Gatwick & Manchester airport are expecting some disruption, but there will be no cancellations to Ski Beat flights. Contingency planning wise, Home Office staff and the Army have been trained to support the operation to keep border channels open. All e-gates will be operational. We will know more next week as contingency planning teams share more information.
Ski Beat advise guests to be on time and go through to airside immediately after check-in. Our reps will be briefed to advise guests at the airport. It is essential that all API info is pre-loaded for guests to ensure a swift check-in at the airport.
Adults and children over 12 years are advised to use the E-Gates (electronic gates), those with younger children will have to queue in the standard queues and delays are unfortunately expected when returning to the UK.

Wheelchair assistance at the airport
If anyone in your party requires assistance at the airport, please indicate this in the Special Requirements section of the booking form. Please use one of the descriptions below:
Own Collapsible Wheelchair
Walking Difficulties
Wheelchair Full Carry On
Wheelchair Can't Walk Distance
Wheelchair Can't Manage Aircraft Steps

Can I fly if I'm pregnant?
If you are pregnant, please click on the below links to view the relevant airlines terms and conditions with regards to travelling when pregnant. It is your responsibility to ensure you have the necessary documents and insurance to fly:

We recommend that all expectant mothers carry a medical certificate for intended travel.
Can Ski Beat arrange transfers?
Ski Beat can only arrange transfers when they are booked as part of a holiday package including Ski Beat flights. Ski Beat will not book transfers outside of this under any circumstances.
What are the usual coach transfer times to/from resort?
Likely transfer times by coach from Lyon airport are as follows:
Val Thorens: 3 hours
Méribel/La Tania: 2 ½ hours
La Plagne: 3 hours
Plan Peisey: 3 ¼ hours
Les Arcs 1950: 3 ½ hours
Val d'Isère: 3 ½ hours
La Rosière: 3 ½ hours

These times are a guide and can vary considerably depending upon road and weather conditions. During peak weeks (Christmas/New Year, February half term and Easter holidays) the volume of vehicles on the main route into the 3 Valleys and the Tarentaise increases substantially and you should be prepared for a considerably longer transfer. It is recommended that you carry refreshments with you on board the coach in case of a long transfer.
The Ski Beat Experience
Our Wonderful Chalet Hosts
Enjoy a veritable feast of local, seasonal produce and homemade delights throughout your stay, courtesy of our chalet hosts, hired for their flair for cooking and talent for top customer service.
A Home from Home Atmosphere
Cosy accommodation, hearty food and friendly staff create a home from home ambience in the heart of the mountains.
Peace of Mind
From the moment you book, you can rest assured that when your purchase a package from Ski Beat your holiday is financially protected by ATOL and Ski Beat's 35 years of experience.
Flights, Baggage & Transfers
Flights with reputable airlines and modern, efficient airport transfers, all timed to maximise your time in resort. Even better, all Ski Beat packages include a generous baggage allowance.
Appetising Canapés & Apéritifs
On arrival in your chalet, handmade pre-dinner canapés and apéritifs will be served to you in the lounge while your experienced chalet host welcomes you to your chalet and introduces you to the resort.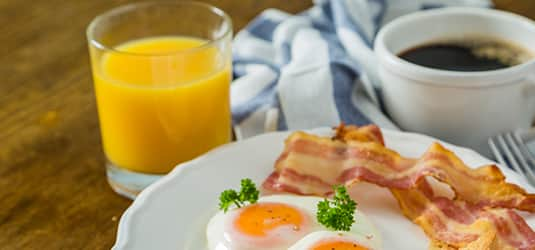 Delicious Breakfasts
Start your day with a delicious breakfast including 4 cooked breakfasts a week, with bacon, eggs, beans or hash browns and mushrooms or tomatoes and a continental breakfast on 3 days, with a selection of cereals, porridge, yogurts and fresh bread.
Homemade Cakes & Afternoon Tea
Scrumptious homemade cakes and a choice of teas are provided every day, best enjoyed while you relax in the lounge area in front of the log fire.
Hearty Three Course Dinner
Home cooked evening meal served with unlimited carefully selected red, white or rosé wine (6 days), with an additional 4th course of local cheese board with port on the Thursday evening.
Ski Beat Extras
Upon arrival, you will find a L'OCCITANE gift pack in every bedroom. Bring your iPod and enjoy the exceptional quality of our hand-crafted Ruark Audio systems. Each chalet also features a selection of Drumond Park games.